El Neuvo Valiante – The New 1967 Plymouth Valiant Signet Coupe
So after the wreck of my old 1967 Valiant I started hunting for a replacement body. This one popped up for sale on a Mopar website and I made a commitment to buy it.
I should have checked it out a bit more before putting it up on the trailer, as this thing needs a bit more work than I anticipated. Caveat emptor, si?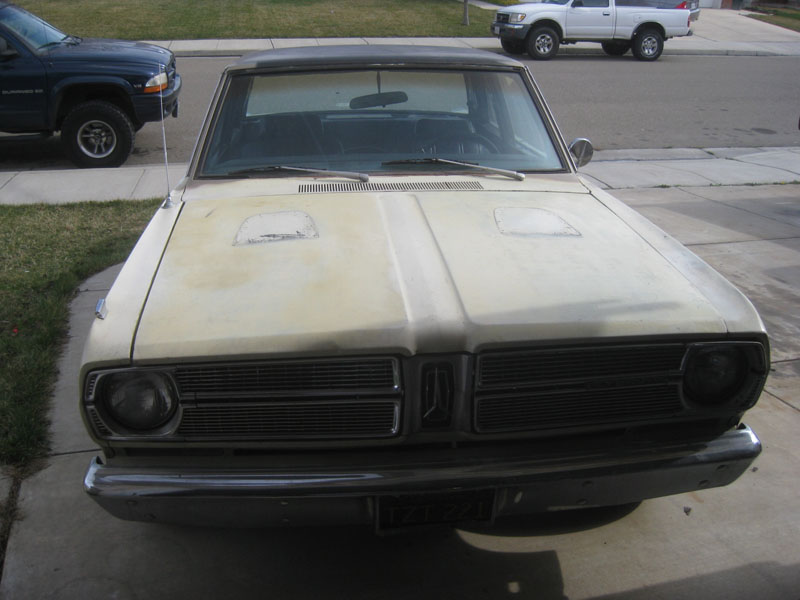 One of the previous owners had added a pair of Cal Custom hood scoops for looks. If the hood latch keeps sticking I'm going to add a set of original Mopar hood pins I have hanging on the wall.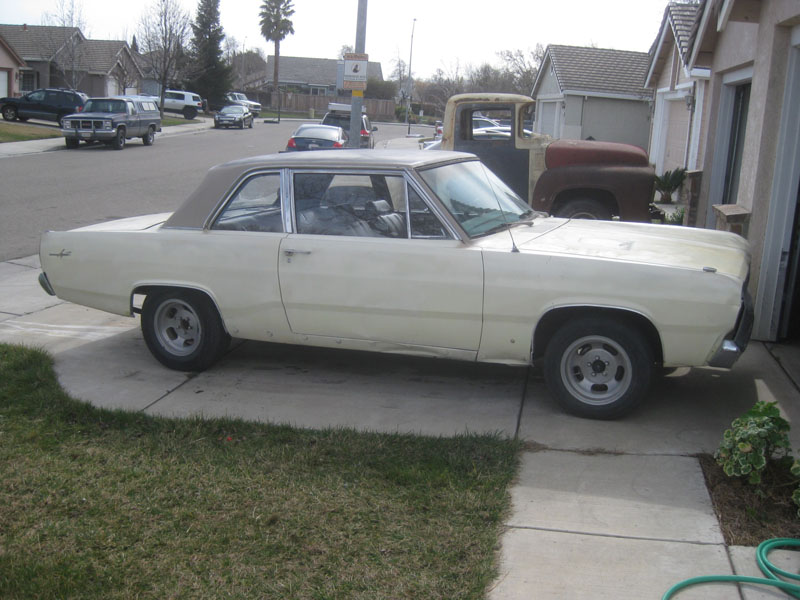 The slotted mags practically sealed the deal when I first saw the pictures of it. My friends are right, my vehicles have often rolled on chunks of aluminum with kidney bean shaped holes in them. I blame my Pop's old '57 Chevy for my predilection to three things on my old cars: glass packs, slotted mags, and four speeds.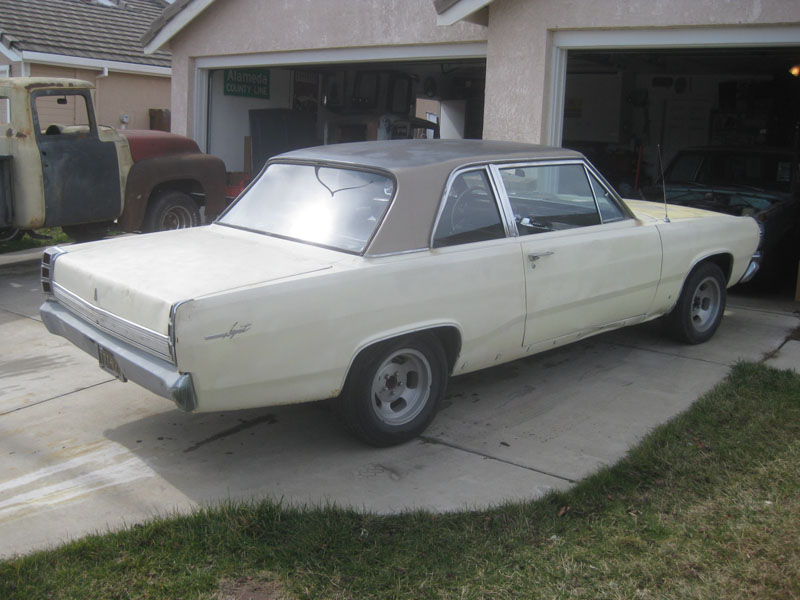 The "Signet" package added a bunch of trim to the lowly Valiant line and added an almost Mercedes-esque look to the little car. I'm not a big fan of it, so I'll probably remove a bunch of it. I do like the stainless around the windows though. It originally had a black vinyl top which I will paint black and rock a two-tone dirty penguin look.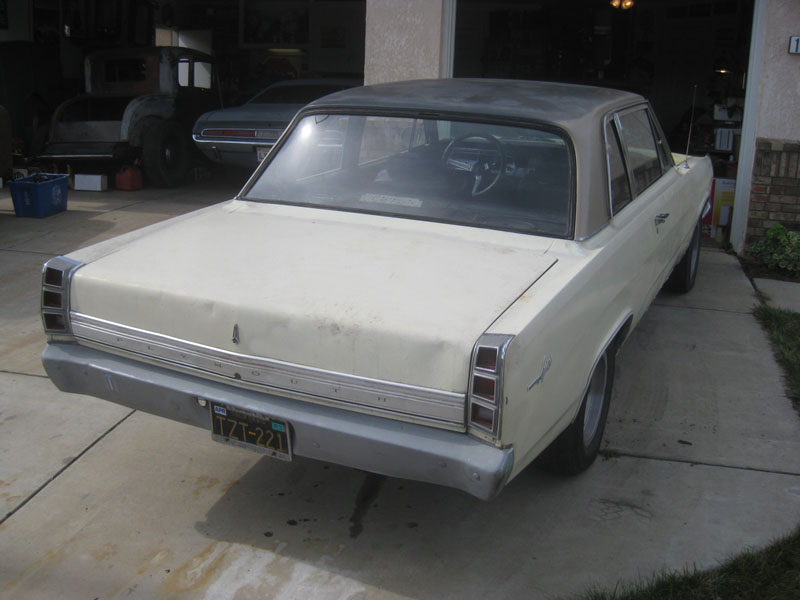 Previous owner added 1968 Valiant tail lights as well, which I do like better than the '67 or '69 tail lights. Also has the original black plates with my lucky number '21' in them!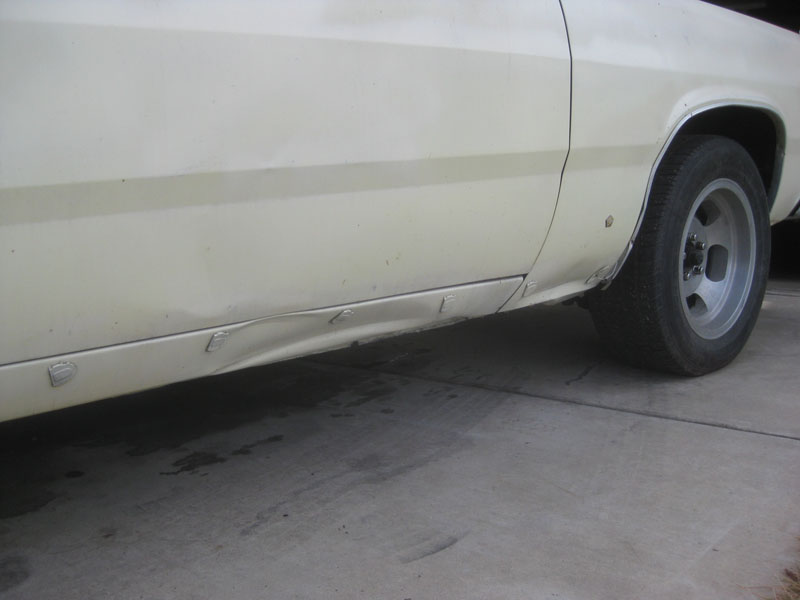 Problem area #2 (#1 to come later) is the damaged passenger side rocker. Luckily I'll have a replacement rocker when I chop the old Valiant up.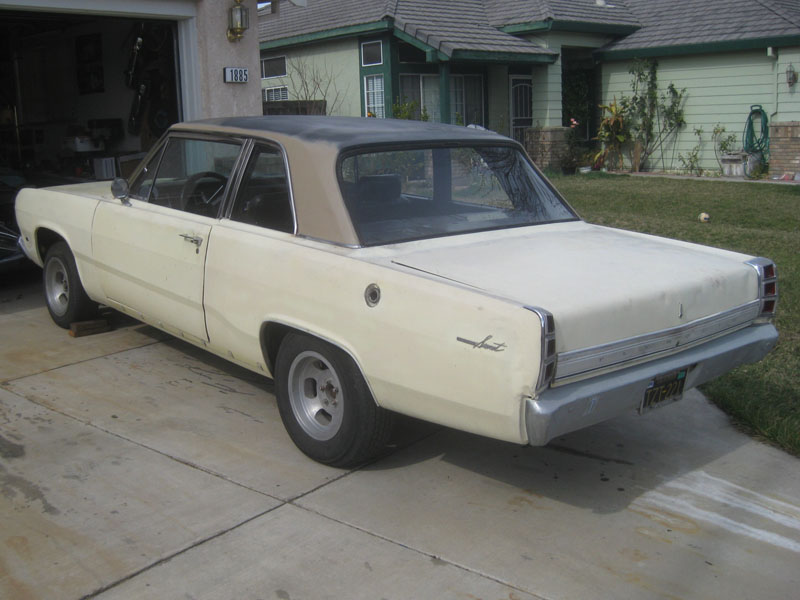 Driver's side looks nice, but the door hinges are shot and the striker is busted in the sheet metal. It's actually a common Mopar A-body problem that again I can fix with parts from my other car.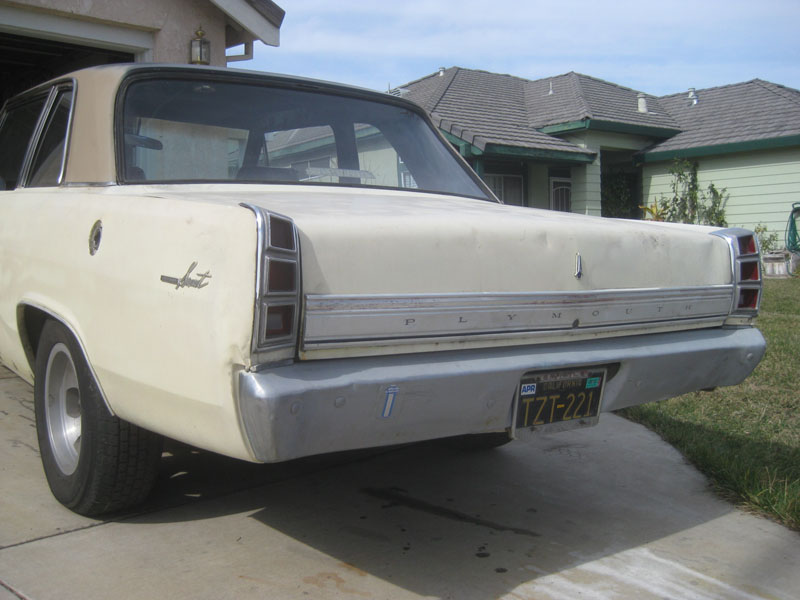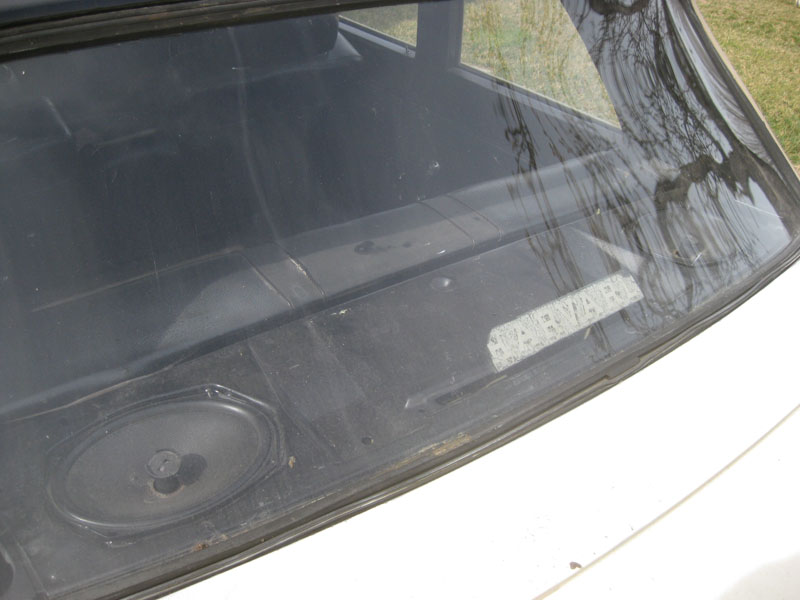 An old Harvard sticker in the window. I've already removed it.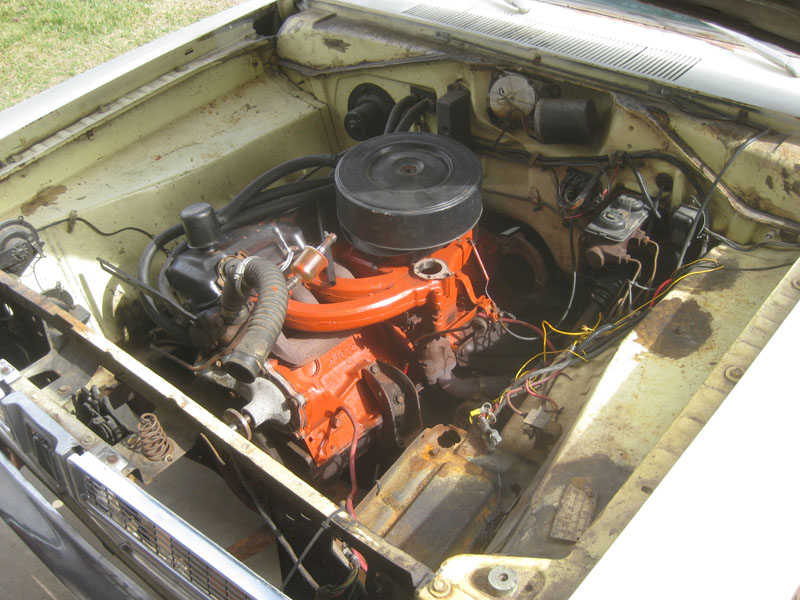 Supposedly a 170 cubic inch slant six with a rod knock. Missing a bunch of stuff like the starter and alternator. Compare the shape of the engine bracket the one in my wrecked car. Dang!!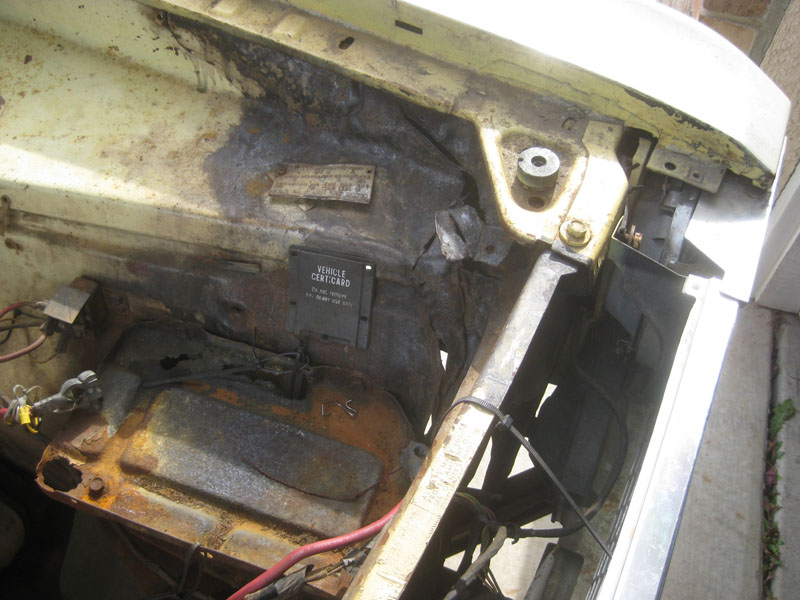 This is the major problem that really chapped my ass. The guy I bought it from said it had a "little rust" around the battery tray. This is crumpled sheetmetal and I'm not even sure what happened, considering that the radiator support isn't all f'ed up. I figured when selling a dude on a forum you frequent you'd be a little more honest about the actual condition of the damage to the car. In the end it's my fault for not going over it first more carefully. It was dark and I'm a trusting kind of guy.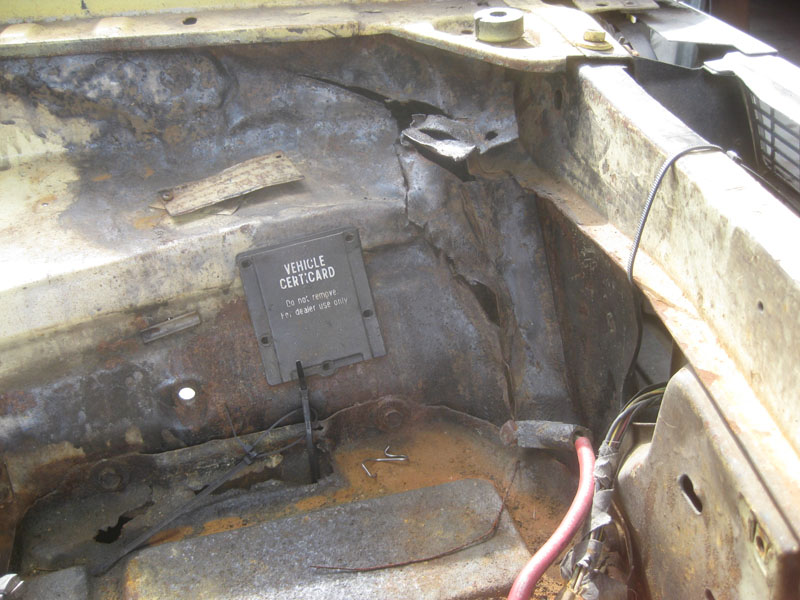 Seriously, what happened here? I'd like to know just to satisfy my curiosity. At least the dude provided a replacement piece for the inner fender well and I'm handy with my welder.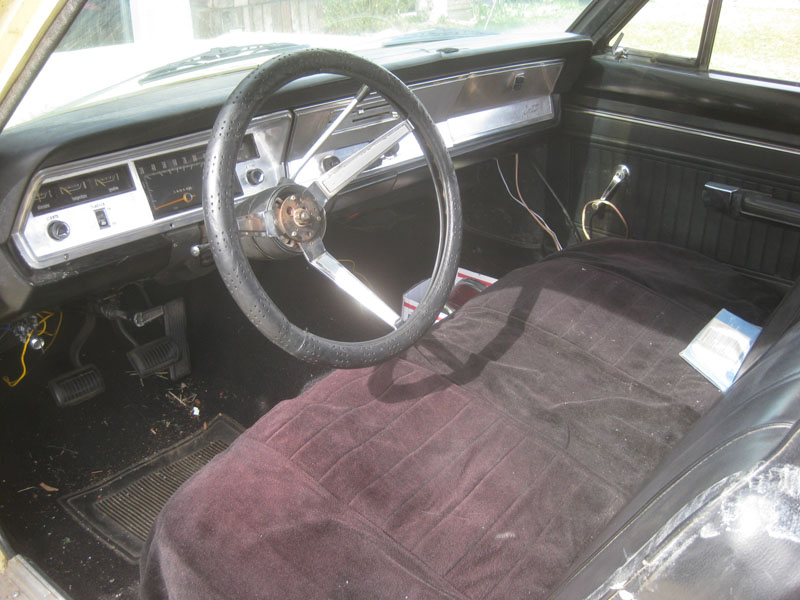 The interior is okay, you can see the upgraded Signet dash trim and woodgrain steering wheel. The radio hole had been modified for a different stereo already so I'll probably cut in out for a newer one and the steering wheel will be pulled and replaced with the 1974 Ferrari Dino wheel I put into my old Valiant. I like have something nice to hold onto while ripping through the corners.
So that's the new Valiant. It's a fixer upper but I'm the right guy to do it. Hopefully I can get the nice bits from my old Valiant onto this one quickly so I can start driving it soon.