Fun Times for All! My Old Valiant Sedan
1968 Plymouth Valiant 100 sedan
Slant Six, Four on the Floor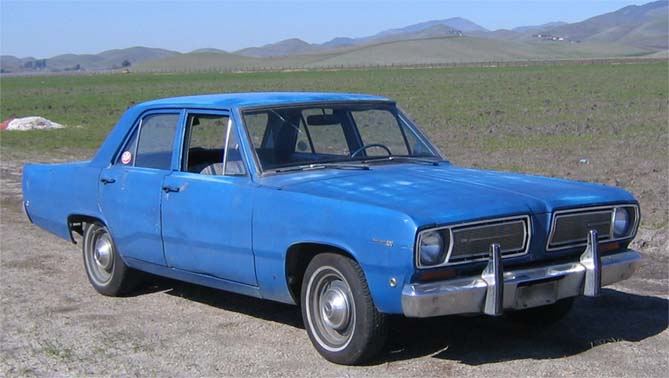 It really was one of those "You had to be there!" kind of things, or maybe "Happiness is a total Beater!"
I made a ton of great memories bombing around in this little car. We'd pack it full of gearheads, pick a DD, and booze it up all night long with the music cranked as loud as we could take it! Even my sister banged the gears as we flew down a bumpy offroad trail.
The video is of the Valiant driving backwards all the way home from the pizza place after we consumed several pitchers of beer, quite possibly at a ratio of one pitcher per person. We're being chased by our buddy Kyle's 1966 Dodge Coronet. What, like it never happens to you?!
It was definately a cruiser. We were identified several times by people we didn't know.
On one our wild party nights, while stopped at a light, my good buddy leaned out the window and Greg started hooting at some girls next to us at the light. Things went horribly wrong for him when I gave him a little push and out the window he went headfirst onto the ground. Later somewhere else he was identified by one of the girls; "Hey, weren't you the guy who fell out of that blue car?"
Another buddy told me one of his friends say they saw a blue car full of greasers sitting at a light when it suddenly did a reverse burnout and took off making a right turn. Yep, that was us, too. My buddy even admitted to knowing us!
So, here's some other junk we did to it…
The Dodge Aspen free parts car!
A nice email I got from someone about the Valiant
Random Plymouth Valiant pictures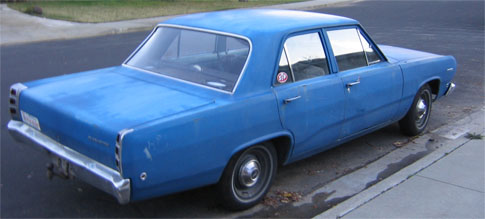 "Rarely has a car with such little sex appeal been so popular for so long." – said of the Plymouth Valiant car line (1960 to 1976) – Author Known